Service Catalog Version 0.102.3
Last updated in version 0.96.1
Auto Scaling Group
View Source
Release Notes
Overview​
This service contains code to deploy Auto Scaling Groups on AWS.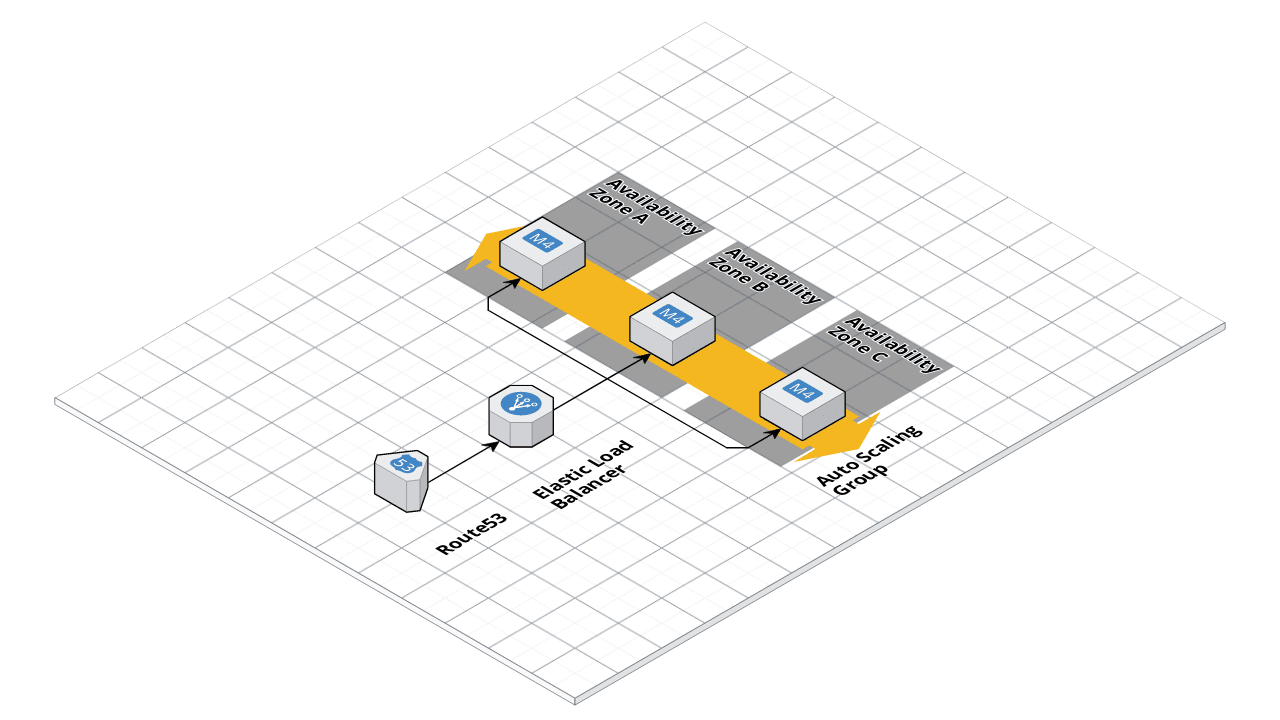 ASG architecture
Features​
Load balancer (ELB) integration
Listener Rules
Health checks
Zero-downtime rolling deployment
Route53 record
Learn​
Under the hood, this is all implemented using Terraform modules from the Gruntwork terraform-aws-asg repo. If you are a subscriber and don't have access to this repo, email support@gruntwork.io.
ASG Documentation: Amazon's docs for ASG that cover core concepts such as launch templates and auto scaling groups.
Deploy​
Non-production deployment (quick start for learning)​
If you just want to try this repo out for experimenting and learning, check out the following resources:
examples/for-learning-and-testing folder: The examples/for-learning-and-testing folder contains standalone sample code optimized for learning, experimenting, and testing (but not direct production usage).
Production deployment​
If you want to deploy this repo in production, check out the following resources:
Sample Usage​
main.tf



# ------------------------------------------------------------------------------------------------------




# DEPLOY GRUNTWORK'S ASG-SERVICE MODULE




# ------------------------------------------------------------------------------------------------------





module

 "asg_service" 

{





  

source

 

=

 

"git::git@github.com:gruntwork-io/terraform-aws-service-catalog.git//modules/asg-service?ref=v0.102.3"





  

# ----------------------------------------------------------------------------------------------------




  

# REQUIRED VARIABLES




  

# ----------------------------------------------------------------------------------------------------





  

# The ID of the AMI to run on each instance in the ASG. The AMI needs to have




  

# `ec2-baseline` installed, since by default it will run `start_ec2_baseline` on




  

# the User Data.




  

ami

 

=

 <INPUT REQUIRED>





  

# Properties on the AMI that can be used to lookup a prebuilt AMI for use with the




  

# Bastion Host. You can build the AMI using the Packer template bastion-host.json.




  

# Only used if var.ami is null. One of var.ami or var.ami_filters is required. Set




  

# to null if passing the ami ID directly.




  

ami_filters

 

=

 <INPUT REQUIRED>





  

# The type of instance to run in the ASG (e.g. t3.medium)




  

instance_type

 

=

 <INPUT REQUIRED>





  

# The maximum number of EC2 Instances to run in this ASG




  

max_size

 

=

 <INPUT REQUIRED>





  

# Wait for this number of EC2 Instances to show up healthy in the load balancer on




  

# creation.




  

min_elb_capacity

 

=

 <INPUT REQUIRED>





  

# The minimum number of EC2 Instances to run in this ASG




  

min_size

 

=

 <INPUT REQUIRED>





  

# The name for the ASG and all other resources created by these templates.




  

name

 

=

 <INPUT REQUIRED>





  

# The list of IDs of the subnets in which to deploy ASG. The list must only




  

# contain subnets in var.vpc_id.




  

subnet_ids

 

=

 <INPUT REQUIRED>





  

# The ID of the VPC in which to deploy the Auto Scaling Group




  

vpc_id

 

=

 <INPUT REQUIRED>





  

# ----------------------------------------------------------------------------------------------------




  

# OPTIONAL VARIABLES




  

# ----------------------------------------------------------------------------------------------------





  

# A list of SNS topic ARNs to notify when the health check changes to ALARM, OK,




  

# or INSUFFICIENT_DATA state. Note: these SNS topics MUST be in us-east-1! This is




  

# because Route 53 only sends CloudWatch metrics to us-east-1, so we must create




  

# the alarm in that region, and therefore, can only notify SNS topics in that




  

# region.




  

alarm_sns_topic_arns_us_east_1

 

=

 

[

]





  

# The ARNs of SNS topics where CloudWatch alarms (e.g., for CPU, memory, and disk




  

# space usage) should send notifications. Also used for the alarms if the Jenkins




  

# backup job fails.




  

alarms_sns_topic_arn

 

=

 

[

]





  

# The CIDR blocks from which to allow access to the ports in var.server_ports




  

allow_inbound_from_cidr_blocks

 

=

 

[

]





  

# The security group IDs from which to allow access to the ports in




  

# var.server_ports




  

allow_inbound_from_security_group_ids

 

=

 

[

]





  

# The CIDR blocks from which to allow SSH access




  

allow_ssh_from_cidr_blocks

 

=

 

[

]





  

# The security group IDs from which to allow SSH access




  

allow_ssh_security_group_ids

 

=

 

[

]





  

# Cloud init scripts to run on the ASG instances during boot. See the part blocks




  

# in https://www.terraform.io/docs/providers/template/d/cloudinit_config.html for




  

# syntax




  

cloud_init_parts

 

=

 

{

}





  

# The ID (ARN, alias ARN, AWS ID) of a customer managed KMS Key to use for




  

# encrypting log data.




  

cloudwatch_log_group_kms_key_id

 

=

 null





  

# The number of days to retain log events in the log group. Refer to




  

# https://registry.terraform.io/providers/hashicorp/aws/latest/docs/resources/clou




  

# watch_log_group#retention_in_days for all the valid values. When null, the log




  

# events are retained forever.




  

cloudwatch_log_group_retention_in_days

 

=

 null





  

# Tags to apply on the CloudWatch Log Group, encoded as a map where the keys are




  

# tag keys and values are tag values.




  

cloudwatch_log_group_tags

 

=

 null





  

# Set to true to create a DNS A record in Route 53 for this service.




  

create_route53_entry

 

=

 

false





  

# A list of custom tags to apply to the EC2 Instances in this ASG. Each item in




  

# this list should be a map with the parameters key, value, and




  

# propagate_at_launch.




  

custom_tags

 

=

 

[

]





  

# The ARN of the Target Group to which to route traffic.




  

default_forward_target_group_arns

 

=

 

[

]





  

# The default OS user for the service AMI. For example, for AWS Ubuntu AMIs, the




  

# default OS user is 'ubuntu'.




  

default_user

 

=

 

"ubuntu"





  

# The desired number of EC2 Instances to run in the ASG initially. Note that auto




  

# scaling policies may change this value. If you're using auto scaling policies to




  

# dynamically resize the cluster, you should actually leave this value as null.




  

desired_capacity

 

=

 null





  

# The domain name to register in var.hosted_zone_id (e.g. foo.example.com). Only




  

# used if var.create_route53_entry is true.




  

domain_name

 

=

 null





  

# Set to true to enable several basic CloudWatch alarms around CPU usage, memory




  

# usage, and disk space usage. If set to true, make sure to specify SNS topics to




  

# send notifications to using var.alarms_sns_topic_arn.




  

enable_cloudwatch_alarms

 

=

 

true





  

# Set to true to add AIM permissions to send logs to CloudWatch. This is useful in




  

# combination with




  

# https://github.com/gruntwork-io/terraform-aws-monitoring/tree/master/modules/log




  

# /cloudwatch-log-aggregation-scripts to do log aggregation in CloudWatch.




  

enable_cloudwatch_log_aggregation

 

=

 

true





  

# Set to true to add IAM permissions to send custom metrics to CloudWatch. This is




  

# useful in combination with




  

# https://github.com/gruntwork-io/terraform-aws-monitoring/tree/master/modules/age




  

# ts/cloudwatch-agent to get memory and disk metrics in CloudWatch for your Auto




  

# Scaling Group




  

enable_cloudwatch_metrics

 

=

 

true





  

# Enable fail2ban to block brute force log in attempts. Defaults to true




  

enable_fail2ban

 

=

 

true





  

# Enable ip-lockdown to block access to the instance metadata. Defaults to true




  

enable_ip_lockdown

 

=

 

true





  

# If set to true, use Route 53 to perform health checks on var.domain_name.




  

enable_route53_health_check

 

=

 

false





  

# A list of metrics the ASG should enable for monitoring all instances in a group.




  

# The allowed values are GroupMinSize, GroupMaxSize, GroupDesiredCapacity,




  

# GroupInServiceInstances, GroupPendingInstances, GroupStandbyInstances,




  

# GroupTerminatingInstances, GroupTotalInstances.




  

enabled_metrics

 

=

 

[

]





  

# Since our IAM users are defined in a separate AWS account, this variable is used




  

# to specify the ARN of an IAM role that allows ssh-grunt to retrieve IAM group




  

# and public SSH key info from that account.




  

external_account_ssh_grunt_role_arn

 

=

 

""





  

# Listener rules for a fixed-response action. See comments below for information




  

# about the parameters.




  

fixed_response_listener_rules

 

=

 

{

}





  

# Listener rules for a forward action that distributes requests among one or more




  

# target groups. By default, sends traffic to the target groups created for the




  

# ports in var.server_ports. See comments below for information about the




  

# parameters.




  

forward_listener_rules

 

=

 

{

}





  

# Time, in seconds, after an EC2 Instance comes into service before checking




  

# health.




  

health_check_grace_period

 

=

 

300





  

# The period, in seconds, over which to measure the CPU utilization percentage for




  

# the ASG.




  

high_asg_cpu_utilization_period

 

=

 

60





  

# Trigger an alarm if the ASG has an average cluster CPU utilization percentage




  

# above this threshold.




  

high_asg_cpu_utilization_threshold

 

=

 

90





  

# Sets how this alarm should handle entering the INSUFFICIENT_DATA state. Based on




  

# https://docs.aws.amazon.com/AmazonCloudWatch/latest/monitoring/AlarmThatSendsEma




  

# l.html#alarms-and-missing-data. Must be one of: 'missing', 'ignore', 'breaching'




  

# or 'notBreaching'.




  

high_asg_cpu_utilization_treat_missing_data

 

=

 

"missing"





  

# The period, in seconds, over which to measure the root disk utilization




  

# percentage for the ASG.




  

high_asg_disk_utilization_period

 

=

 

60





  

# Trigger an alarm if the ASG has an average cluster root disk utilization




  

# percentage above this threshold.




  

high_asg_disk_utilization_threshold

 

=

 

90





  

# Sets how this alarm should handle entering the INSUFFICIENT_DATA state. Based on




  

# https://docs.aws.amazon.com/AmazonCloudWatch/latest/monitoring/AlarmThatSendsEma




  

# l.html#alarms-and-missing-data. Must be one of: 'missing', 'ignore', 'breaching'




  

# or 'notBreaching'.




  

high_asg_disk_utilization_treat_missing_data

 

=

 

"missing"





  

# The period, in seconds, over which to measure the Memory utilization percentage




  

# for the ASG.




  

high_asg_memory_utilization_period

 

=

 

60





  

# Trigger an alarm if the ASG has an average cluster Memory utilization percentage




  

# above this threshold.




  

high_asg_memory_utilization_threshold

 

=

 

90





  

# Sets how this alarm should handle entering the INSUFFICIENT_DATA state. Based on




  

# https://docs.aws.amazon.com/AmazonCloudWatch/latest/monitoring/AlarmThatSendsEma




  

# l.html#alarms-and-missing-data. Must be one of: 'missing', 'ignore', 'breaching'




  

# or 'notBreaching'.




  

high_asg_memory_utilization_treat_missing_data

 

=

 

"missing"





  

# The ID of the Route 53 Hosted Zone in which to create a DNS A record for the




  

# Auto Scaling Group. Optional if create_route53_entry = false.




  

hosted_zone_id

 

=

 null





  

# An object defining the policy to attach to `iam_role_name` if the IAM role is




  

# going to be created. Accepts a map of objects, where the map keys are sids for




  

# IAM policy statements, and the object fields are the resources, actions, and the




  

# effect ("Allow" or "Deny") of the statement. Ignored if `iam_role_arn` is




  

# provided. Leave as null if you do not wish to use IAM role with Service




  

# Accounts.




  

iam_policy

 

=

 null





  

# The name of a Key Pair that can be used to SSH to the EC2 Instances in the ASG.




  

# Set to null if you don't want to enable Key Pair auth.




  

key_pair_name

 

=

 null





  

# The ID of the Route 53 Hosted Zone in which to create a DNS A record for the




  

# Auto Scaling Group. Optional if create_route53_entry = false.




  

lb_hosted_zone_id

 

=

 null





  

# A map of all the listeners on the load balancer. The keys should be the port




  

# numbers and the values should be the ARN of the listener for that port.




  

listener_arns

 

=

 

{

}





  

# The ports the ALB listens on for requests




  

listener_ports

 

=

 

[

]





  

# A list of Elastic Load Balancer (ELB) names to associate with this ASG. If




  

# you're using the Application Load Balancer (ALB), see var.target_group_arns.




  

load_balancers

 

=

 

[

]





  

# List of users on the ASG EC2 instances that should be permitted access to the




  

# EC2 metadata.




  

metadata_users

 

=

 

[

]





  

# The DNS name that was assigned by AWS to the load balancer upon creation




  

original_lb_dns_name

 

=

 null





  

# Listener rules for a redirect action. See comments below for information about




  

# the parameters.




  

redirect_listener_rules

 

=

 

{

}





  

# The optional external_id to be used in the us-east-1 provider block defined in




  

# the route53-health-check-alarms module.  This module configures its own AWS




  

# provider to ensure resources are created in us-east-1.




  

route53_health_check_provider_external_id

 

=

 null





  

# The optional AWS profile to be used in the us-east-1 provider block defined in




  

# the route53-health-check-alarms module.  This module configures its own AWS




  

# provider to ensure resources are created in us-east-1.




  

route53_health_check_provider_profile

 

=

 null





  

# The optional role_arn to be used in the us-east-1 provider block defined in the




  

# route53-health-check-alarms module.  This module configures its own AWS provider




  

# to ensure resources are created in us-east-1.




  

route53_health_check_provider_role_arn

 

=

 null





  

# The optional session_name to be used in the us-east-1 provider block defined in




  

# the route53-health-check-alarms module.  This module configures its own AWS




  

# provider to ensure resources are created in us-east-1.




  

route53_health_check_provider_session_name

 

=

 null





  

# The optional path to a credentials file used in the us-east-1 provider block




  

# defined in the route53-health-check-alarms module.  This module configures its




  

# own AWS provider to ensure resources are created in us-east-1.




  

route53_health_check_provider_shared_credentials_file

 

=

 null





  

# A list of ARNs of Secrets Manager secrets that the task should have permissions




  

# to read. The IAM role for the task will be granted




  

# `secretsmanager:GetSecretValue` for each secret in the list. The ARN can be




  

# either the complete ARN, including the randomly generated suffix, or the ARN




  

# without the suffix. If the latter, the module will look up the full ARN




  

# automatically. This is helpful in cases where you don't yet know the randomly




  

# generated suffix because the rest of the ARN is a predictable value.




  

secrets_access

 

=

 

[

]





  

# The ports the EC2 instances listen on for requests. A Target Group will be




  

# created for each port and any rules specified in var.forward_rules will forward




  

# traffic to these Target Groups.




  

server_ports

 

=

 

{

}





  

# When true, precreate the CloudWatch Log Group to use for log aggregation from




  

# the EC2 instances. This is useful if you wish to customize the CloudWatch Log




  

# Group with various settings such as retention periods and KMS encryption. When




  

# false, the CloudWatch agent will automatically create a basic log group to use.




  

should_create_cloudwatch_log_group

 

=

 

true





  

# If you are using ssh-grunt, this is the name of the IAM group from which users




  

# will be allowed to SSH to the instances. To omit this variable, set it to an




  

# empty string (do NOT use null, or Terraform will complain).




  

ssh_grunt_iam_group

 

=

 

"ssh-grunt-sudo-users"





  

# If you are using ssh-grunt, this is the name of the IAM group from which users




  

# will be allowed to SSH to the instances with sudo permissions. To omit this




  

# variable, set it to an empty string (do NOT use null, or Terraform will




  

# complain).




  

ssh_grunt_iam_group_sudo

 

=

 

"ssh-grunt-sudo-users"





  

# The port at which SSH will be allowed from var.allow_ssh_from_cidr_blocks and




  

# var.allow_ssh_security_group_ids




  

ssh_port

 

=

 

22





  

# The key for the tag that will be used to associate a unique identifier with this




  

# ASG. This identifier will persist between redeploys of the ASG, even though the




  

# underlying ASG is being deleted and replaced with a different one.




  

tag_asg_id_key

 

=

 

"AsgId"





  

# A list of policies to decide how the instances in the auto scale group should be




  

# terminated. The allowed values are OldestInstance, NewestInstance,




  

# OldestLaunchConfiguration, ClosestToNextInstanceHour, Default.




  

termination_policies

 

=

 

[

]





  

# Whether or not ELB or ALB health checks should be enabled. If set to true, the




  

# load_balancers or target_groups_arns variable should be set depending on the




  

# load balancer type you are using. Useful for testing connectivity before health




  

# check endpoints are available.




  

use_elb_health_checks

 

=

 

true





  

# When true, all IAM policies will be managed as dedicated policies rather than




  

# inline policies attached to the IAM roles. Dedicated managed policies are




  

# friendlier to automated policy checkers, which may scan a single resource for




  

# findings. As such, it is important to avoid inline policies when targeting




  

# compliance with various security standards.




  

use_managed_iam_policies

 

=

 

true





  

# A maximum duration that Terraform should wait for the EC2 Instances to be




  

# healthy before timing out.




  

wait_for_capacity_timeout

 

=

 

"10m"





}




Reference​