Service Catalog Version 0.102.3
Last updated in version 0.100.0
Helm Service
View Source
Release Notes
Overview​
This service contains Terraform code to deploy an arbitrary Helm chart to Kubernetes following best practices.
This module is intended to deploy third-party applications already packaged as Helm Charts, such as those available in bitnami. If you want to deploy your own application containers to Kubernetes, see the k8s-service module.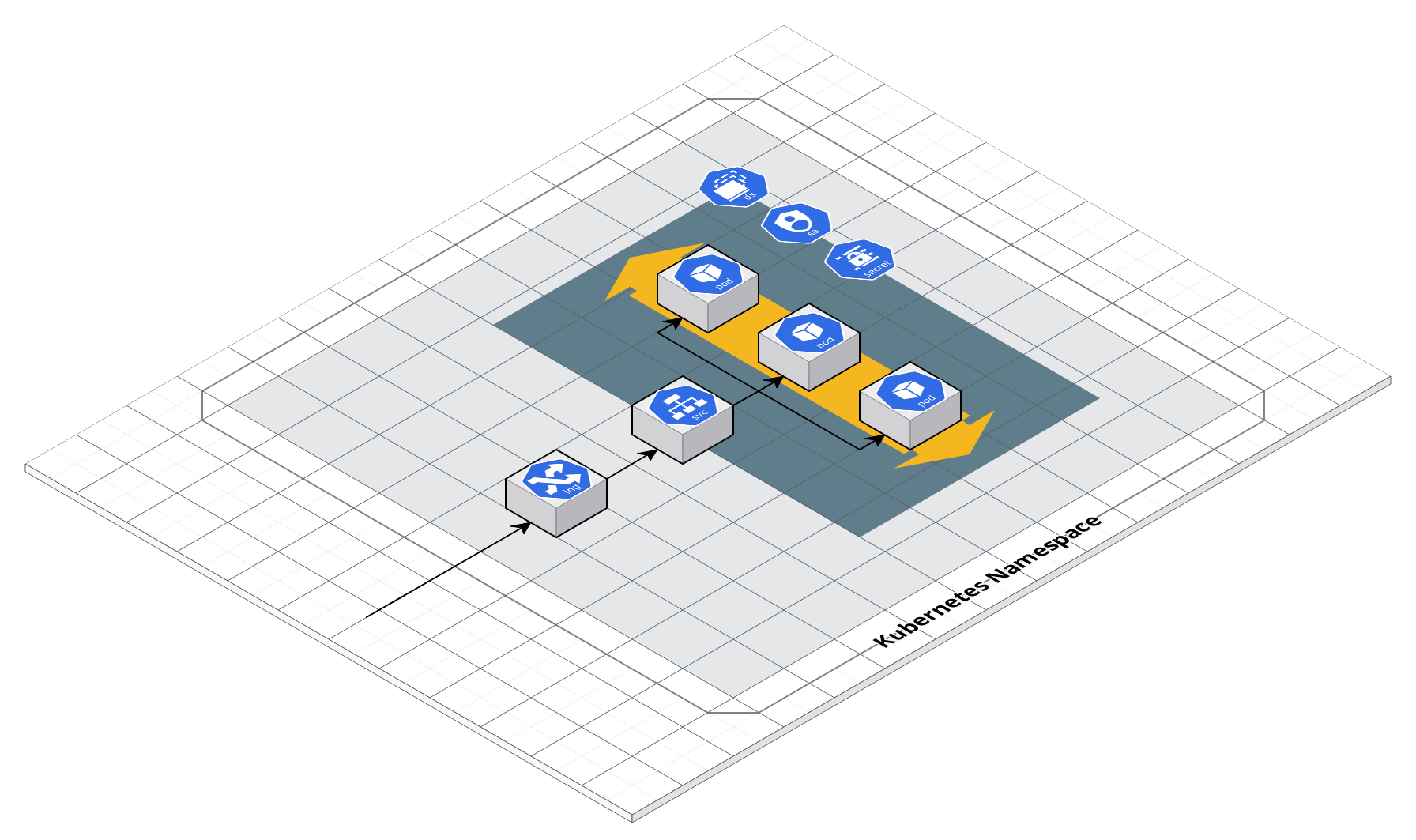 Kubernetes Service architecture
Features​
Deploy any Helm chart using Terraform
Managed with Helm
Learn​
Core concepts​
Repo organization​
modules: the main implementation code for this repo, broken down into multiple standalone, orthogonal submodules.
examples: This folder contains working examples of how to use the submodules.
test: Automated tests for the modules and examples.
Deploy​
Non-production deployment (quick start for learning)​
If you just want to try this repo out for experimenting and learning, check out the following resources:
examples/for-learning-and-testing folder: The examples/for-learning-and-testing folder contains standalone sample code optimized for learning, experimenting, and testing (but not direct production usage).
Production deployment​
If you want to deploy this repo in production, check out the following resources:
Sample Usage​
main.tf



# ------------------------------------------------------------------------------------------------------




# DEPLOY GRUNTWORK'S HELM-SERVICE MODULE




# ------------------------------------------------------------------------------------------------------





module

 "helm_service" 

{





  

source

 

=

 

"git::git@github.com:gruntwork-io/terraform-aws-service-catalog.git//modules/helm-service?ref=v0.102.3"





  

# ----------------------------------------------------------------------------------------------------




  

# REQUIRED VARIABLES




  

# ----------------------------------------------------------------------------------------------------





  

# The name of the application (e.g. my-service-stage). Used for labeling




  

# Kubernetes resources.




  

application_name

 

=

 <INPUT REQUIRED>





  

# Chart name to be installed. The chart name can be local path, a URL to a chart,




  

# or the name of the chart if repository is specified. It is also possible to use




  

# the <repository>/<chart> format here if you are running Terraform on a system




  

# that the repository has been added to with helm repo add but this is not




  

# recommended.




  

helm_chart

 

=

 <INPUT REQUIRED>





  

# Repository URL where to locate the requested chart.




  

helm_repository

 

=

 <INPUT REQUIRED>





  

# The Kubernetes Namespace to deploy the helm chart into.




  

namespace

 

=

 <INPUT REQUIRED>





  

# ----------------------------------------------------------------------------------------------------




  

# OPTIONAL VARIABLES




  

# ----------------------------------------------------------------------------------------------------





  

# Configuration for using the IAM role with Service Accounts feature to provide




  

# permissions to the applications. This expects a map with two properties:




  

# `openid_connect_provider_arn` and `openid_connect_provider_url`. The




  

# `openid_connect_provider_arn` is the ARN of the OpenID Connect Provider for EKS




  

# to retrieve IAM credentials, while `openid_connect_provider_url` is the URL.




  

# Leave as an empty string if you do not wish to use IAM role with Service




  

# Accounts.




  

eks_iam_role_for_service_accounts_config

 

=

 null





  

# Map of values to pass to the Helm chart. Leave empty to use chart default




  

# values.




  

helm_chart_values

 

=

 

{

}





  

# Specify the exact chart version to install. If this is not specified, the latest




  

# version is installed.




  

helm_chart_version

 

=

 null





  

# An object defining the policy to attach to `iam_role_name` if the IAM role is




  

# going to be created. Accepts a map of objects, where the map keys are sids for




  

# IAM policy statements, and the object fields are the resources, actions, and the




  

# effect ("Allow" or "Deny") of the statement. Ignored if `iam_role_arn` is




  

# provided. Leave as null if you do not wish to use IAM role with Service




  

# Accounts.




  

iam_policy

 

=

 null





  

# Whether or not the IAM role passed in `iam_role_name` already exists. Set to




  

# true if it exists, or false if it needs to be created. Defaults to false.




  

iam_role_exists

 

=

 

false





  

# The name of an IAM role that will be used by the pod to access the AWS API. If




  

# `iam_role_exists` is set to false, this role will be created. Leave as an empty




  

# string if you do not wish to use IAM role with Service Accounts.




  

iam_role_name

 

=

 

""





  

# The name of a service account to create for use with the Pods. This service




  

# account will be mapped to the IAM role defined in `var.iam_role_name` to give




  

# the pod permissions to access the AWS API. Must be unique in this namespace.




  

# Leave as an empty string if you do not wish to assign a Service Account to the




  

# Pods.




  

service_account_name

 

=

 

""





  

# Sleep for 30 seconds to allow Kubernetes time to remove associated AWS




  

# resources.




  

sleep_for_resource_culling

 

=

 

false





  

# When true, wait until Pods are up and healthy or wait_timeout seconds before




  

# exiting terraform.




  

wait

 

=

 

true





  

# Number of seconds to wait for Pods to become healthy before marking the




  

# deployment as a failure.




  

wait_timeout

 

=

 

300





}




Reference​