Service Catalog Version 0.107.7
Last updated in version 0.104.0
Amazon Aurora
View Source
Release Notes
Overview​
This service contains code to deploy an Amazon Relational Database Service (RDS) cluster that can run Amazon Aurora, Amazon's cloud-native relational database. The cluster is managed by AWS and automatically handles standby failover, read replicas, backups, patching, and encryption.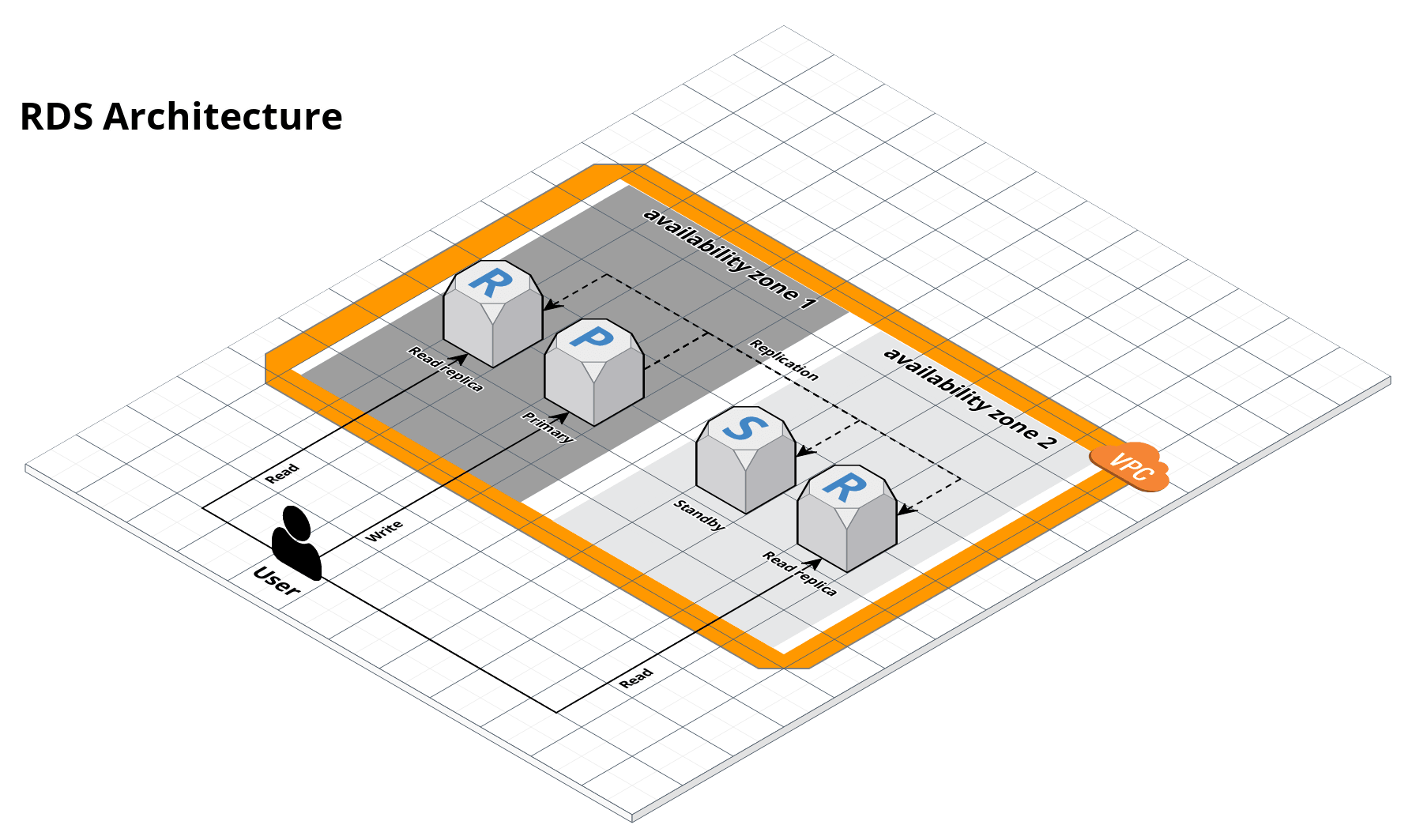 RDS architecture
Features​
Deploy a fully-managed, cloud-native relational database
MySQL and PostgreSQL compatibility
Automatic failover to a standby in another availability zone
Read replicas
Automatic nightly snapshots
Automatic cross account snapshots
Automatic scaling of storage
Scale to 0 with Aurora Serverless
Integrate with Kubernetes Service Discovery
Support Aurora Serverless v2
Learn​
Deploy​
Non-production deployment (quick start for learning)​
If you just want to try this repo out for experimenting and learning, check out the following resources:
examples/for-learning-and-testing folder: The examples/for-learning-and-testing folder contains standalone sample code optimized for learning, experimenting, and testing (but not direct production usage).
Production deployment​
If you want to deploy this repo in production, check out the following resources:
Sample Usage​
main.tf



# ------------------------------------------------------------------------------------------------------




# DEPLOY GRUNTWORK'S AURORA MODULE




#




# NOTE: This module uses some sensitive variables marked inline with "# SENSITIVE".




# When using values other than defaults for these variables, set them through environment variables or




# another secure method.




#




# ------------------------------------------------------------------------------------------------------





module

 "aurora" 

{





  

source

 

=

 

"git::git@github.com:gruntwork-io/terraform-aws-service-catalog.git//modules/data-stores/aurora?ref=v0.107.7"





  

# ----------------------------------------------------------------------------------------------------




  

# REQUIRED VARIABLES




  

# ----------------------------------------------------------------------------------------------------





  

# The list of IDs of the subnets in which to deploy Aurora. The list must only




  

# contain subnets in var.vpc_id.




  

aurora_subnet_ids

 

=

 <list(string)>





  

# The name used to namespace all the Aurora resources created by these




  

# templates, including the cluster and cluster instances (e.g. drupaldb). Must




  

# be unique in this region. Must be a lowercase string.




  

name

 

=

 <string>





  

# The ID of the VPC in which to deploy Aurora.




  

vpc_id

 

=

 <string>





  

# ----------------------------------------------------------------------------------------------------




  

# OPTIONAL VARIABLES




  

# ----------------------------------------------------------------------------------------------------





  

# The ARNs of SNS topics where CloudWatch alarms (e.g., for CPU, memory, and




  

# disk space usage) should send notifications. Also used for the alarms if the




  

# share snapshot backup job fails.




  

alarms_sns_topic_arns

 

=

 

[

]





  

# The list of network CIDR blocks to allow network access to Aurora from. One




  

# of var.allow_connections_from_cidr_blocks or




  

# var.allow_connections_from_security_groups must be specified for the




  

# database to be reachable.




  

allow_connections_from_cidr_blocks

 

=

 

[

]





  

# The list of IDs or Security Groups to allow network access to Aurora from.




  

# All security groups must either be in the VPC specified by var.vpc_id, or a




  

# peered VPC with the VPC specified by var.vpc_id. One of




  

# var.allow_connections_from_cidr_blocks or




  

# var.allow_connections_from_security_groups must be specified for the




  

# database to be reachable.




  

allow_connections_from_security_groups

 

=

 

[

]





  

# Enable to allow major engine version upgrades when changing engine versions.




  

allow_major_version_upgrade

 

=

 

false





  

# Specifies whether any cluster modifications are applied immediately, or




  

# during the next maintenance window. Note that cluster modifications may




  

# cause degraded performance or downtime.




  

apply_immediately

 

=

 

false





  

# Configure the auto minor version upgrade behavior. This is applied to the




  

# cluster instances and indicates if the automatic minor version upgrade of




  

# the engine is allowed. Default value is true.




  

auto_minor_version_upgrade

 

=

 

true





  

# How often, in seconds, the backup job is expected to run. This is the same




  

# as var.schedule_expression, but unfortunately, Terraform offers no way to




  

# convert rate expressions to seconds. We add a CloudWatch alarm that triggers




  

# if the metric in var.create_snapshot_cloudwatch_metric_namespace isn't




  

# updated within this time period, as that indicates the backup failed to run.




  

backup_job_alarm_period

 

=

 

3600





  

# Sets how the backup job alarm should handle entering the INSUFFICIENT_DATA




  

# state. Based on




  

# https://docs.aws.amazon.com/AmazonCloudWatch/latest/monitoring/AlarmThatSendsEmail.html#alarms-and-missing-data.




  

# Must be one of: 'missing', 'ignore', 'breaching' or 'notBreaching'.




  

backup_job_alarm_treat_missing_data

 

=

 

"missing"





  

# How many days to keep backup snapshots around before cleaning them up. Max:




  

# 35




  

backup_retention_period

 

=

 

30





  

# Copy all the Aurora cluster tags to snapshots. Default is false.




  

copy_tags_to_snapshot

 

=

 

false





  

# Set to true if you want a DNS record automatically created and pointed at




  

# the RDS endpoints.




  

create_route53_entry

 

=

 

false





  

# The namespace to use for the CloudWatch metric we report every time a new




  

# RDS snapshot is created. We add a CloudWatch alarm on this metric to notify




  

# us if the backup job fails to run for any reason. Defaults to the cluster




  

# name.




  

create_snapshot_cloudwatch_metric_namespace

 

=

 null





  

# A map of custom tags to apply to the RDS cluster and all associated




  

# resources created for it. The key is the tag name and the value is the tag




  

# value.




  

custom_tags

 

=

 

{

}





  

# Parameters for the cpu usage widget to output for use in a CloudWatch




  

# dashboard.




  

dashboard_cpu_usage_widget_parameters

 

=

 

{

"height"

:

6

,

"period"

:

60

,

"width"

:

8

}





  

# Parameters for the database connections widget to output for use in a




  

# CloudWatch dashboard.




  

dashboard_db_connections_widget_parameters

 

=

 

{

"height"

:

6

,

"period"

:

60

,

"width"

:

8

}





  

# Parameters for the available disk space widget to output for use in a




  

# CloudWatch dashboard.




  

dashboard_disk_space_widget_parameters

 

=

 

{

"height"

:

6

,

"period"

:

60

,

"width"

:

8

}





  

# Parameters for the available memory widget to output for use in a CloudWatch




  

# dashboard.




  

dashboard_memory_widget_parameters

 

=

 

{

"height"

:

6

,

"period"

:

60

,

"width"

:

8

}





  

# Parameters for the read latency widget to output for use in a CloudWatch




  

# dashboard.




  

dashboard_read_latency_widget_parameters

 

=

 

{

"height"

:

6

,

"period"

:

60

,

"width"

:

8

}





  

# Parameters for the read latency widget to output for use in a CloudWatch




  

# dashboard.




  

dashboard_write_latency_widget_parameters

 

=

 

{

"height"

:

6

,

"period"

:

60

,

"width"

:

8

}





  

# Configure a custom parameter group for the RDS DB cluster. This will create




  

# a new parameter group with the given parameters. When null, the database




  

# will be launched with the default parameter group.




  

db_cluster_custom_parameter_group

 

=

 null





  

# The friendly name or ARN of an AWS Secrets Manager secret that contains




  

# database configuration information in the format outlined by this document:




  

# https://docs.aws.amazon.com/secretsmanager/latest/userguide/best-practices.html.




  

# The engine, username, password, dbname, and port fields must be included in




  

# the JSON. Note that even with this precaution, this information will be




  

# stored in plaintext in the Terraform state file! See the following blog post




  

# for more details:




  

# https://blog.gruntwork.io/a-comprehensive-guide-to-managing-secrets-in-your-terraform-code-1d586955ace1.




  

# If you do not wish to use Secrets Manager, leave this as null, and use the




  

# master_username, master_password, db_name, engine, and port variables.




  

db_config_secrets_manager_id

 

=

 null





  

# Configure a custom parameter group for the RDS DB Instance. This will create




  

# a new parameter group with the given parameters. When null, the database




  

# will be launched with the default parameter group.




  

db_instance_custom_parameter_group

 

=

 null





  

# The name for your database of up to 8 alpha-numeric characters. If you do




  

# not provide a name, Amazon RDS will not create a database in the DB cluster




  

# you are creating. This can also be provided via AWS Secrets Manager. See the




  

# description of db_config_secrets_manager_id. A value here overrides the




  

# value in db_config_secrets_manager_id.




  

db_name

 

=

 null





  

# Set to true to enable several basic CloudWatch alarms around CPU usage,




  

# memory usage, and disk space usage. If set to true, make sure to specify SNS




  

# topics to send notifications to using var.alarms_sns_topic_arn.




  

enable_cloudwatch_alarms

 

=

 

true





  

# When true, enable CloudWatch metrics for the manual snapshots created for




  

# the purpose of sharing with another account.




  

enable_cloudwatch_metrics

 

=

 

true





  

# Enable deletion protection on the database instance. If this is enabled, the




  

# database cannot be deleted.




  

enable_deletion_protection

 

=

 

false





  

# Set to true to enable alarms related to performance, such as read and write




  

# latency alarms. Set to false to disable those alarms if you aren't sure what




  

# would be reasonable perf numbers for your RDS set up or if those numbers are




  

# too unpredictable.




  

enable_perf_alarms

 

=

 

true





  

# When true, enable CloudWatch alarms for the manual snapshots created for the




  

# purpose of sharing with another account. Only used if




  

# var.share_snapshot_with_another_account is true.




  

enable_share_snapshot_cloudwatch_alarms

 

=

 

true





  

# If non-empty, the Aurora cluster will export the specified logs to




  

# Cloudwatch. Must be zero or more of: audit, error, general and slowquery




  

enabled_cloudwatch_logs_exports

 

=

 

[

]





  

# The name of the database engine to be used for this DB cluster. Valid




  

# Values: aurora (for MySQL 5.6-compatible Aurora), aurora-mysql (for MySQL




  

# 5.7-compatible Aurora), and aurora-postgresql. This can also be provided via




  

# AWS Secrets Manager. See the description of db_config_secrets_manager_id. A




  

# value here overrides the value in db_config_secrets_manager_id.




  

engine

 

=

 null





  

# The version of aurora to run - provisioned or serverless.




  

engine_mode

 

=

 

"provisioned"





  

# The Amazon Aurora DB engine version for the selected engine and engine_mode.




  

# Note: Starting with Aurora MySQL 2.03.2, Aurora engine versions have the




  

# following syntax <mysql-major-version>.mysql_aurora.<aurora-mysql-version>.




  

# e.g. 5.7.mysql_aurora.2.08.1.




  

engine_version

 

=

 null





  

# The period, in seconds, over which to measure the CPU utilization




  

# percentage.




  

high_cpu_utilization_period

 

=

 

60





  

# Trigger an alarm if the DB instance has a CPU utilization percentage above




  

# this threshold.




  

high_cpu_utilization_threshold

 

=

 

90





  

# Sets how this alarm should handle entering the INSUFFICIENT_DATA state.




  

# Based on




  

# https://docs.aws.amazon.com/AmazonCloudWatch/latest/monitoring/AlarmThatSendsEmail.html#alarms-and-missing-data.




  

# Must be one of: 'missing', 'ignore', 'breaching' or 'notBreaching'.




  

high_cpu_utilization_treat_missing_data

 

=

 

"missing"





  

# The period, in seconds, over which to measure the read latency.




  

high_read_latency_period

 

=

 

60





  

# Trigger an alarm if the DB instance read latency (average amount of time




  

# taken per disk I/O operation), in seconds, is above this threshold.




  

high_read_latency_threshold

 

=

 

5





  

# Sets how this alarm should handle entering the INSUFFICIENT_DATA state.




  

# Based on




  

# https://docs.aws.amazon.com/AmazonCloudWatch/latest/monitoring/AlarmThatSendsEmail.html#alarms-and-missing-data.




  

# Must be one of: 'missing', 'ignore', 'breaching' or 'notBreaching'.




  

high_read_latency_treat_missing_data

 

=

 

"missing"





  

# The period, in seconds, over which to measure the write latency.




  

high_write_latency_period

 

=

 

60





  

# Trigger an alarm if the DB instance write latency (average amount of time




  

# taken per disk I/O operation), in seconds, is above this threshold.




  

high_write_latency_threshold

 

=

 

5





  

# Sets how this alarm should handle entering the INSUFFICIENT_DATA state.




  

# Based on




  

# https://docs.aws.amazon.com/AmazonCloudWatch/latest/monitoring/AlarmThatSendsEmail.html#alarms-and-missing-data.




  

# Must be one of: 'missing', 'ignore', 'breaching' or 'notBreaching'.




  

high_write_latency_treat_missing_data

 

=

 

"missing"





  

# The ID of the hosted zone in which to write DNS records




  

hosted_zone_id

 

=

 null





  

# Specifies whether mappings of AWS Identity and Access Management (IAM)




  

# accounts to database accounts is enabled. Disabled by default.




  

iam_database_authentication_enabled

 

=

 

false





  

# The number of DB instances, including the primary, to run in the RDS




  

# cluster. Only used when var.engine_mode is set to provisioned.




  

instance_count

 

=

 

1





  

# The instance type to use for the db (e.g. db.r3.large). Only used when




  

# var.engine_mode is set to provisioned.




  

instance_type

 

=

 

"db.t3.medium"





  

# The ARN of a KMS key that should be used to encrypt data on disk. Only used




  

# if var.storage_encrypted is true. If you leave this null, the default RDS




  

# KMS key for the account will be used.




  

kms_key_arn

 

=

 null





  

# The period, in seconds, over which to measure the available free disk space.




  

low_disk_space_available_period

 

=

 

60





  

# Trigger an alarm if the amount of disk space, in Bytes, on the DB instance




  

# drops below this threshold.




  

low_disk_space_available_threshold

 

=

 

1000000000





  

# Sets how this alarm should handle entering the INSUFFICIENT_DATA state.




  

# Based on




  

# https://docs.aws.amazon.com/AmazonCloudWatch/latest/monitoring/AlarmThatSendsEmail.html#alarms-and-missing-data.




  

# Must be one of: 'missing', 'ignore', 'breaching' or 'notBreaching'.




  

low_disk_space_available_treat_missing_data

 

=

 

"missing"





  

# The period, in seconds, over which to measure the available free memory.




  

low_memory_available_period

 

=

 

60





  

# Trigger an alarm if the amount of free memory, in Bytes, on the DB instance




  

# drops below this threshold.




  

low_memory_available_threshold

 

=

 

100000000





  

# Sets how this alarm should handle entering the INSUFFICIENT_DATA state.




  

# Based on




  

# https://docs.aws.amazon.com/AmazonCloudWatch/latest/monitoring/AlarmThatSendsEmail.html#alarms-and-missing-data.




  

# Must be one of: 'missing', 'ignore', 'breaching' or 'notBreaching'.




  

low_memory_available_treat_missing_data

 

=

 

"missing"





  

# The value to use for the master password of the database. This can also be




  

# provided via AWS Secrets Manager. See the description of




  

# db_config_secrets_manager_id. A value here overrides the value in




  

# db_config_secrets_manager_id.




  

master_password

 

=

 null 

# SENSITIVE





  

# The value to use for the master username of the database. This can also be




  

# provided via AWS Secrets Manager. See the description of




  

# db_config_secrets_manager_id. A value here overrides the value in




  

# db_config_secrets_manager_id.




  

master_username

 

=

 null





  

# Specifies whether Performance Insights is enabled or not. On Aurora MySQL,




  

# Performance Insights is not supported on db.t2 or db.t3 DB instance classes.




  

performance_insights_enabled

 

=

 

false





  

# The ARN for the KMS key to encrypt Performance Insights data.




  

performance_insights_kms_key_id

 

=

 null





  

# The port the DB will listen on (e.g. 3306). This can also be provided via




  

# AWS Secrets Manager. See the description of db_config_secrets_manager_id. A




  

# value here overrides the value in db_config_secrets_manager_id.




  

port

 

=

 null





  

# The daily time range during which automated backups are created (e.g.




  

# 04:00-09:00). Time zone is UTC. Performance may be degraded while a backup




  

# runs.




  

preferred_backup_window

 

=

 

"06:00-07:00"





  

# The weekly day and time range during which cluster maintenance can occur




  

# (e.g. wed:04:00-wed:04:30). Time zone is UTC. Performance may be degraded or




  

# there may even be a downtime during maintenance windows.




  

preferred_maintenance_window

 

=

 

"sun:07:00-sun:08:00"





  

# The domain name to create a route 53 record for the primary endpoint of the




  

# RDS database.




  

primary_domain_name

 

=

 null





  

# If you wish to make your database accessible from the public Internet, set




  

# this flag to true (WARNING: NOT RECOMMENDED FOR REGULAR USAGE!!). The




  

# default is false, which means the database is only accessible from within




  

# the VPC, which is much more secure. This flag MUST be false for serverless




  

# mode.




  

publicly_accessible

 

=

 

false





  

# The domain name to create a route 53 record for the reader endpoint of the




  

# RDS database. Note that Aurora Serverless does not have reader endpoints, so




  

# this option is ignored when engine_mode is set to serverless. 




  

reader_domain_name

 

=

 null





  

# If non-empty, the Aurora cluster will be restored from the given source




  

# cluster using the latest restorable time. Can only be used if




  

# snapshot_identifier is null. For more information see




  

# https://docs.aws.amazon.com/AmazonRDS/latest/AuroraUserGuide/USER_PIT.html




  

restore_source_cluster_identifier

 

=

 null





  

# Only used if 'restore_source_cluster_identifier' is non-empty. Type of




  

# restore to be performed. Valid options are 'full-copy' and 'copy-on-write'.




  

# https://docs.aws.amazon.com/AmazonRDS/latest/AuroraUserGuide/Aurora.Managing.Clone.html




  

restore_type

 

=

 null





  

# Whether to enable automatic pause. A DB cluster can be paused only when it's




  

# idle (it has no connections). If a DB cluster is paused for more than seven




  

# days, the DB cluster might be backed up with a snapshot. In this case, the




  

# DB cluster is restored when there is a request to connect to it. Only used




  

# when var.engine_mode is set to serverless.




  

scaling_configuration_auto_pause

 

=

 

true





  

# The maximum capacity. The maximum capacity must be greater than or equal to




  

# the minimum capacity. Valid capacity values are 2, 4, 8, 16, 32, 64, 128,




  

# and 256. Only used when var.engine_mode is set to serverless.




  

scaling_configuration_max_capacity

 

=

 

256





  

scaling_configuration_max_capacity_V2

 

=

 null





  

# The minimum capacity. The minimum capacity must be lesser than or equal to




  

# the maximum capacity. Valid capacity values are 2, 4, 8, 16, 32, 64, 128,




  

# and 256. Only used when var.engine_mode is set to serverless.




  

scaling_configuration_min_capacity

 

=

 

2





  

scaling_configuration_min_capacity_V2

 

=

 null





  

# The time, in seconds, before an Aurora DB cluster in serverless mode is




  

# paused. Valid values are 300 through 86400. Only used when var.engine_mode




  

# is set to serverless.




  

scaling_configuration_seconds_until_auto_pause

 

=

 

300





  

# The maximum number of snapshots to keep around for the purpose of cross




  

# account sharing. Once this number is exceeded, a lambda function will delete




  

# the oldest snapshots. Only used if var.share_snapshot_with_another_account




  

# is true.




  

share_snapshot_max_snapshots

 

=

 

30





  

# An expression that defines how often to run the lambda function to take




  

# snapshots for the purpose of cross account sharing. For example, cron(0 20 *




  

# * ? *) or rate(5 minutes). Required if




  

# var.share_snapshot_with_another_account is true




  

share_snapshot_schedule_expression

 

=

 null





  

# The ID of the AWS Account that the snapshot should be shared with. Required




  

# if var.share_snapshot_with_another_account is true.




  

share_snapshot_with_account_id

 

=

 null





  

# If set to true, take periodic snapshots of the Aurora DB that should be




  

# shared with another account.




  

share_snapshot_with_another_account

 

=

 

false





  

# Determines whether a final DB snapshot is created before the DB instance is




  

# deleted. Be very careful setting this to true; if you do, and you delete




  

# this DB instance, you will not have any backups of the data! You almost




  

# never want to set this to true, unless you are doing automated or manual




  

# testing.




  

skip_final_snapshot

 

=

 

false





  

# If non-null, the RDS Instance will be restored from the given Snapshot ID.




  

# This is the Snapshot ID you'd find in the RDS console, e.g:




  

# rds:production-2015-06-26-06-05.




  

snapshot_identifier

 

=

 null





  

# Specifies whether the DB cluster uses encryption for data at rest in the




  

# underlying storage for the DB, its automated backups, Read Replicas, and




  

# snapshots. Uses the default aws/rds key in KMS.




  

storage_encrypted

 

=

 

true





  

# Trigger an alarm if the number of connections to the DB instance goes above




  

# this threshold.




  

too_many_db_connections_threshold

 

=

 null





}





terragrunt.hcl



# ------------------------------------------------------------------------------------------------------




# DEPLOY GRUNTWORK'S AURORA MODULE




#




# NOTE: This module uses some sensitive variables marked inline with "# SENSITIVE".




# When using values other than defaults for these variables, set them through environment variables or




# another secure method.




#




# ------------------------------------------------------------------------------------------------------





terraform

 

{




  

source

 

=

 

"git::git@github.com:gruntwork-io/terraform-aws-service-catalog.git//modules/data-stores/aurora?ref=v0.107.7"




}





inputs

 

=

 

{





  

# ----------------------------------------------------------------------------------------------------




  

# REQUIRED VARIABLES




  

# ----------------------------------------------------------------------------------------------------





  

# The list of IDs of the subnets in which to deploy Aurora. The list must only




  

# contain subnets in var.vpc_id.




  

aurora_subnet_ids

 

=

 <list(string)>





  

# The name used to namespace all the Aurora resources created by these




  

# templates, including the cluster and cluster instances (e.g. drupaldb). Must




  

# be unique in this region. Must be a lowercase string.




  

name

 

=

 <string>





  

# The ID of the VPC in which to deploy Aurora.




  

vpc_id

 

=

 <string>





  

# ----------------------------------------------------------------------------------------------------




  

# OPTIONAL VARIABLES




  

# ----------------------------------------------------------------------------------------------------





  

# The ARNs of SNS topics where CloudWatch alarms (e.g., for CPU, memory, and




  

# disk space usage) should send notifications. Also used for the alarms if the




  

# share snapshot backup job fails.




  

alarms_sns_topic_arns

 

=

 

[

]





  

# The list of network CIDR blocks to allow network access to Aurora from. One




  

# of var.allow_connections_from_cidr_blocks or




  

# var.allow_connections_from_security_groups must be specified for the




  

# database to be reachable.




  

allow_connections_from_cidr_blocks

 

=

 

[

]





  

# The list of IDs or Security Groups to allow network access to Aurora from.




  

# All security groups must either be in the VPC specified by var.vpc_id, or a




  

# peered VPC with the VPC specified by var.vpc_id. One of




  

# var.allow_connections_from_cidr_blocks or




  

# var.allow_connections_from_security_groups must be specified for the




  

# database to be reachable.




  

allow_connections_from_security_groups

 

=

 

[

]





  

# Enable to allow major engine version upgrades when changing engine versions.




  

allow_major_version_upgrade

 

=

 

false





  

# Specifies whether any cluster modifications are applied immediately, or




  

# during the next maintenance window. Note that cluster modifications may




  

# cause degraded performance or downtime.




  

apply_immediately

 

=

 

false





  

# Configure the auto minor version upgrade behavior. This is applied to the




  

# cluster instances and indicates if the automatic minor version upgrade of




  

# the engine is allowed. Default value is true.




  

auto_minor_version_upgrade

 

=

 

true





  

# How often, in seconds, the backup job is expected to run. This is the same




  

# as var.schedule_expression, but unfortunately, Terraform offers no way to




  

# convert rate expressions to seconds. We add a CloudWatch alarm that triggers




  

# if the metric in var.create_snapshot_cloudwatch_metric_namespace isn't




  

# updated within this time period, as that indicates the backup failed to run.




  

backup_job_alarm_period

 

=

 

3600





  

# Sets how the backup job alarm should handle entering the INSUFFICIENT_DATA




  

# state. Based on




  

# https://docs.aws.amazon.com/AmazonCloudWatch/latest/monitoring/AlarmThatSendsEmail.html#alarms-and-missing-data.




  

# Must be one of: 'missing', 'ignore', 'breaching' or 'notBreaching'.




  

backup_job_alarm_treat_missing_data

 

=

 

"missing"





  

# How many days to keep backup snapshots around before cleaning them up. Max:




  

# 35




  

backup_retention_period

 

=

 

30





  

# Copy all the Aurora cluster tags to snapshots. Default is false.




  

copy_tags_to_snapshot

 

=

 

false





  

# Set to true if you want a DNS record automatically created and pointed at




  

# the RDS endpoints.




  

create_route53_entry

 

=

 

false





  

# The namespace to use for the CloudWatch metric we report every time a new




  

# RDS snapshot is created. We add a CloudWatch alarm on this metric to notify




  

# us if the backup job fails to run for any reason. Defaults to the cluster




  

# name.




  

create_snapshot_cloudwatch_metric_namespace

 

=

 null





  

# A map of custom tags to apply to the RDS cluster and all associated




  

# resources created for it. The key is the tag name and the value is the tag




  

# value.




  

custom_tags

 

=

 

{

}





  

# Parameters for the cpu usage widget to output for use in a CloudWatch




  

# dashboard.




  

dashboard_cpu_usage_widget_parameters

 

=

 

{

"height"

:

6

,

"period"

:

60

,

"width"

:

8

}





  

# Parameters for the database connections widget to output for use in a




  

# CloudWatch dashboard.




  

dashboard_db_connections_widget_parameters

 

=

 

{

"height"

:

6

,

"period"

:

60

,

"width"

:

8

}





  

# Parameters for the available disk space widget to output for use in a




  

# CloudWatch dashboard.




  

dashboard_disk_space_widget_parameters

 

=

 

{

"height"

:

6

,

"period"

:

60

,

"width"

:

8

}





  

# Parameters for the available memory widget to output for use in a CloudWatch




  

# dashboard.




  

dashboard_memory_widget_parameters

 

=

 

{

"height"

:

6

,

"period"

:

60

,

"width"

:

8

}





  

# Parameters for the read latency widget to output for use in a CloudWatch




  

# dashboard.




  

dashboard_read_latency_widget_parameters

 

=

 

{

"height"

:

6

,

"period"

:

60

,

"width"

:

8

}





  

# Parameters for the read latency widget to output for use in a CloudWatch




  

# dashboard.




  

dashboard_write_latency_widget_parameters

 

=

 

{

"height"

:

6

,

"period"

:

60

,

"width"

:

8

}





  

# Configure a custom parameter group for the RDS DB cluster. This will create




  

# a new parameter group with the given parameters. When null, the database




  

# will be launched with the default parameter group.




  

db_cluster_custom_parameter_group

 

=

 null





  

# The friendly name or ARN of an AWS Secrets Manager secret that contains




  

# database configuration information in the format outlined by this document:




  

# https://docs.aws.amazon.com/secretsmanager/latest/userguide/best-practices.html.




  

# The engine, username, password, dbname, and port fields must be included in




  

# the JSON. Note that even with this precaution, this information will be




  

# stored in plaintext in the Terraform state file! See the following blog post




  

# for more details:




  

# https://blog.gruntwork.io/a-comprehensive-guide-to-managing-secrets-in-your-terraform-code-1d586955ace1.




  

# If you do not wish to use Secrets Manager, leave this as null, and use the




  

# master_username, master_password, db_name, engine, and port variables.




  

db_config_secrets_manager_id

 

=

 null





  

# Configure a custom parameter group for the RDS DB Instance. This will create




  

# a new parameter group with the given parameters. When null, the database




  

# will be launched with the default parameter group.




  

db_instance_custom_parameter_group

 

=

 null





  

# The name for your database of up to 8 alpha-numeric characters. If you do




  

# not provide a name, Amazon RDS will not create a database in the DB cluster




  

# you are creating. This can also be provided via AWS Secrets Manager. See the




  

# description of db_config_secrets_manager_id. A value here overrides the




  

# value in db_config_secrets_manager_id.




  

db_name

 

=

 null





  

# Set to true to enable several basic CloudWatch alarms around CPU usage,




  

# memory usage, and disk space usage. If set to true, make sure to specify SNS




  

# topics to send notifications to using var.alarms_sns_topic_arn.




  

enable_cloudwatch_alarms

 

=

 

true





  

# When true, enable CloudWatch metrics for the manual snapshots created for




  

# the purpose of sharing with another account.




  

enable_cloudwatch_metrics

 

=

 

true





  

# Enable deletion protection on the database instance. If this is enabled, the




  

# database cannot be deleted.




  

enable_deletion_protection

 

=

 

false





  

# Set to true to enable alarms related to performance, such as read and write




  

# latency alarms. Set to false to disable those alarms if you aren't sure what




  

# would be reasonable perf numbers for your RDS set up or if those numbers are




  

# too unpredictable.




  

enable_perf_alarms

 

=

 

true





  

# When true, enable CloudWatch alarms for the manual snapshots created for the




  

# purpose of sharing with another account. Only used if




  

# var.share_snapshot_with_another_account is true.




  

enable_share_snapshot_cloudwatch_alarms

 

=

 

true





  

# If non-empty, the Aurora cluster will export the specified logs to




  

# Cloudwatch. Must be zero or more of: audit, error, general and slowquery




  

enabled_cloudwatch_logs_exports

 

=

 

[

]





  

# The name of the database engine to be used for this DB cluster. Valid




  

# Values: aurora (for MySQL 5.6-compatible Aurora), aurora-mysql (for MySQL




  

# 5.7-compatible Aurora), and aurora-postgresql. This can also be provided via




  

# AWS Secrets Manager. See the description of db_config_secrets_manager_id. A




  

# value here overrides the value in db_config_secrets_manager_id.




  

engine

 

=

 null





  

# The version of aurora to run - provisioned or serverless.




  

engine_mode

 

=

 

"provisioned"





  

# The Amazon Aurora DB engine version for the selected engine and engine_mode.




  

# Note: Starting with Aurora MySQL 2.03.2, Aurora engine versions have the




  

# following syntax <mysql-major-version>.mysql_aurora.<aurora-mysql-version>.




  

# e.g. 5.7.mysql_aurora.2.08.1.




  

engine_version

 

=

 null





  

# The period, in seconds, over which to measure the CPU utilization




  

# percentage.




  

high_cpu_utilization_period

 

=

 

60





  

# Trigger an alarm if the DB instance has a CPU utilization percentage above




  

# this threshold.




  

high_cpu_utilization_threshold

 

=

 

90





  

# Sets how this alarm should handle entering the INSUFFICIENT_DATA state.




  

# Based on




  

# https://docs.aws.amazon.com/AmazonCloudWatch/latest/monitoring/AlarmThatSendsEmail.html#alarms-and-missing-data.




  

# Must be one of: 'missing', 'ignore', 'breaching' or 'notBreaching'.




  

high_cpu_utilization_treat_missing_data

 

=

 

"missing"





  

# The period, in seconds, over which to measure the read latency.




  

high_read_latency_period

 

=

 

60





  

# Trigger an alarm if the DB instance read latency (average amount of time




  

# taken per disk I/O operation), in seconds, is above this threshold.




  

high_read_latency_threshold

 

=

 

5





  

# Sets how this alarm should handle entering the INSUFFICIENT_DATA state.




  

# Based on




  

# https://docs.aws.amazon.com/AmazonCloudWatch/latest/monitoring/AlarmThatSendsEmail.html#alarms-and-missing-data.




  

# Must be one of: 'missing', 'ignore', 'breaching' or 'notBreaching'.




  

high_read_latency_treat_missing_data

 

=

 

"missing"





  

# The period, in seconds, over which to measure the write latency.




  

high_write_latency_period

 

=

 

60





  

# Trigger an alarm if the DB instance write latency (average amount of time




  

# taken per disk I/O operation), in seconds, is above this threshold.




  

high_write_latency_threshold

 

=

 

5





  

# Sets how this alarm should handle entering the INSUFFICIENT_DATA state.




  

# Based on




  

# https://docs.aws.amazon.com/AmazonCloudWatch/latest/monitoring/AlarmThatSendsEmail.html#alarms-and-missing-data.




  

# Must be one of: 'missing', 'ignore', 'breaching' or 'notBreaching'.




  

high_write_latency_treat_missing_data

 

=

 

"missing"





  

# The ID of the hosted zone in which to write DNS records




  

hosted_zone_id

 

=

 null





  

# Specifies whether mappings of AWS Identity and Access Management (IAM)




  

# accounts to database accounts is enabled. Disabled by default.




  

iam_database_authentication_enabled

 

=

 

false





  

# The number of DB instances, including the primary, to run in the RDS




  

# cluster. Only used when var.engine_mode is set to provisioned.




  

instance_count

 

=

 

1





  

# The instance type to use for the db (e.g. db.r3.large). Only used when




  

# var.engine_mode is set to provisioned.




  

instance_type

 

=

 

"db.t3.medium"





  

# The ARN of a KMS key that should be used to encrypt data on disk. Only used




  

# if var.storage_encrypted is true. If you leave this null, the default RDS




  

# KMS key for the account will be used.




  

kms_key_arn

 

=

 null





  

# The period, in seconds, over which to measure the available free disk space.




  

low_disk_space_available_period

 

=

 

60





  

# Trigger an alarm if the amount of disk space, in Bytes, on the DB instance




  

# drops below this threshold.




  

low_disk_space_available_threshold

 

=

 

1000000000





  

# Sets how this alarm should handle entering the INSUFFICIENT_DATA state.




  

# Based on




  

# https://docs.aws.amazon.com/AmazonCloudWatch/latest/monitoring/AlarmThatSendsEmail.html#alarms-and-missing-data.




  

# Must be one of: 'missing', 'ignore', 'breaching' or 'notBreaching'.




  

low_disk_space_available_treat_missing_data

 

=

 

"missing"





  

# The period, in seconds, over which to measure the available free memory.




  

low_memory_available_period

 

=

 

60





  

# Trigger an alarm if the amount of free memory, in Bytes, on the DB instance




  

# drops below this threshold.




  

low_memory_available_threshold

 

=

 

100000000





  

# Sets how this alarm should handle entering the INSUFFICIENT_DATA state.




  

# Based on




  

# https://docs.aws.amazon.com/AmazonCloudWatch/latest/monitoring/AlarmThatSendsEmail.html#alarms-and-missing-data.




  

# Must be one of: 'missing', 'ignore', 'breaching' or 'notBreaching'.




  

low_memory_available_treat_missing_data

 

=

 

"missing"





  

# The value to use for the master password of the database. This can also be




  

# provided via AWS Secrets Manager. See the description of




  

# db_config_secrets_manager_id. A value here overrides the value in




  

# db_config_secrets_manager_id.




  

master_password

 

=

 null 

# SENSITIVE





  

# The value to use for the master username of the database. This can also be




  

# provided via AWS Secrets Manager. See the description of




  

# db_config_secrets_manager_id. A value here overrides the value in




  

# db_config_secrets_manager_id.




  

master_username

 

=

 null





  

# Specifies whether Performance Insights is enabled or not. On Aurora MySQL,




  

# Performance Insights is not supported on db.t2 or db.t3 DB instance classes.




  

performance_insights_enabled

 

=

 

false





  

# The ARN for the KMS key to encrypt Performance Insights data.




  

performance_insights_kms_key_id

 

=

 null





  

# The port the DB will listen on (e.g. 3306). This can also be provided via




  

# AWS Secrets Manager. See the description of db_config_secrets_manager_id. A




  

# value here overrides the value in db_config_secrets_manager_id.




  

port

 

=

 null





  

# The daily time range during which automated backups are created (e.g.




  

# 04:00-09:00). Time zone is UTC. Performance may be degraded while a backup




  

# runs.




  

preferred_backup_window

 

=

 

"06:00-07:00"





  

# The weekly day and time range during which cluster maintenance can occur




  

# (e.g. wed:04:00-wed:04:30). Time zone is UTC. Performance may be degraded or




  

# there may even be a downtime during maintenance windows.




  

preferred_maintenance_window

 

=

 

"sun:07:00-sun:08:00"





  

# The domain name to create a route 53 record for the primary endpoint of the




  

# RDS database.




  

primary_domain_name

 

=

 null





  

# If you wish to make your database accessible from the public Internet, set




  

# this flag to true (WARNING: NOT RECOMMENDED FOR REGULAR USAGE!!). The




  

# default is false, which means the database is only accessible from within




  

# the VPC, which is much more secure. This flag MUST be false for serverless




  

# mode.




  

publicly_accessible

 

=

 

false





  

# The domain name to create a route 53 record for the reader endpoint of the




  

# RDS database. Note that Aurora Serverless does not have reader endpoints, so




  

# this option is ignored when engine_mode is set to serverless. 




  

reader_domain_name

 

=

 null





  

# If non-empty, the Aurora cluster will be restored from the given source




  

# cluster using the latest restorable time. Can only be used if




  

# snapshot_identifier is null. For more information see




  

# https://docs.aws.amazon.com/AmazonRDS/latest/AuroraUserGuide/USER_PIT.html




  

restore_source_cluster_identifier

 

=

 null





  

# Only used if 'restore_source_cluster_identifier' is non-empty. Type of




  

# restore to be performed. Valid options are 'full-copy' and 'copy-on-write'.




  

# https://docs.aws.amazon.com/AmazonRDS/latest/AuroraUserGuide/Aurora.Managing.Clone.html




  

restore_type

 

=

 null





  

# Whether to enable automatic pause. A DB cluster can be paused only when it's




  

# idle (it has no connections). If a DB cluster is paused for more than seven




  

# days, the DB cluster might be backed up with a snapshot. In this case, the




  

# DB cluster is restored when there is a request to connect to it. Only used




  

# when var.engine_mode is set to serverless.




  

scaling_configuration_auto_pause

 

=

 

true





  

# The maximum capacity. The maximum capacity must be greater than or equal to




  

# the minimum capacity. Valid capacity values are 2, 4, 8, 16, 32, 64, 128,




  

# and 256. Only used when var.engine_mode is set to serverless.




  

scaling_configuration_max_capacity

 

=

 

256





  

scaling_configuration_max_capacity_V2

 

=

 null





  

# The minimum capacity. The minimum capacity must be lesser than or equal to




  

# the maximum capacity. Valid capacity values are 2, 4, 8, 16, 32, 64, 128,




  

# and 256. Only used when var.engine_mode is set to serverless.




  

scaling_configuration_min_capacity

 

=

 

2





  

scaling_configuration_min_capacity_V2

 

=

 null





  

# The time, in seconds, before an Aurora DB cluster in serverless mode is




  

# paused. Valid values are 300 through 86400. Only used when var.engine_mode




  

# is set to serverless.




  

scaling_configuration_seconds_until_auto_pause

 

=

 

300





  

# The maximum number of snapshots to keep around for the purpose of cross




  

# account sharing. Once this number is exceeded, a lambda function will delete




  

# the oldest snapshots. Only used if var.share_snapshot_with_another_account




  

# is true.




  

share_snapshot_max_snapshots

 

=

 

30





  

# An expression that defines how often to run the lambda function to take




  

# snapshots for the purpose of cross account sharing. For example, cron(0 20 *




  

# * ? *) or rate(5 minutes). Required if




  

# var.share_snapshot_with_another_account is true




  

share_snapshot_schedule_expression

 

=

 null





  

# The ID of the AWS Account that the snapshot should be shared with. Required




  

# if var.share_snapshot_with_another_account is true.




  

share_snapshot_with_account_id

 

=

 null





  

# If set to true, take periodic snapshots of the Aurora DB that should be




  

# shared with another account.




  

share_snapshot_with_another_account

 

=

 

false





  

# Determines whether a final DB snapshot is created before the DB instance is




  

# deleted. Be very careful setting this to true; if you do, and you delete




  

# this DB instance, you will not have any backups of the data! You almost




  

# never want to set this to true, unless you are doing automated or manual




  

# testing.




  

skip_final_snapshot

 

=

 

false





  

# If non-null, the RDS Instance will be restored from the given Snapshot ID.




  

# This is the Snapshot ID you'd find in the RDS console, e.g:




  

# rds:production-2015-06-26-06-05.




  

snapshot_identifier

 

=

 null





  

# Specifies whether the DB cluster uses encryption for data at rest in the




  

# underlying storage for the DB, its automated backups, Read Replicas, and




  

# snapshots. Uses the default aws/rds key in KMS.




  

storage_encrypted

 

=

 

true





  

# Trigger an alarm if the number of connections to the DB instance goes above




  

# this threshold.




  

too_many_db_connections_threshold

 

=

 null





}





Reference​